Cruise Injury Lawyers Tell You How to Cruise from Fort Lauderdale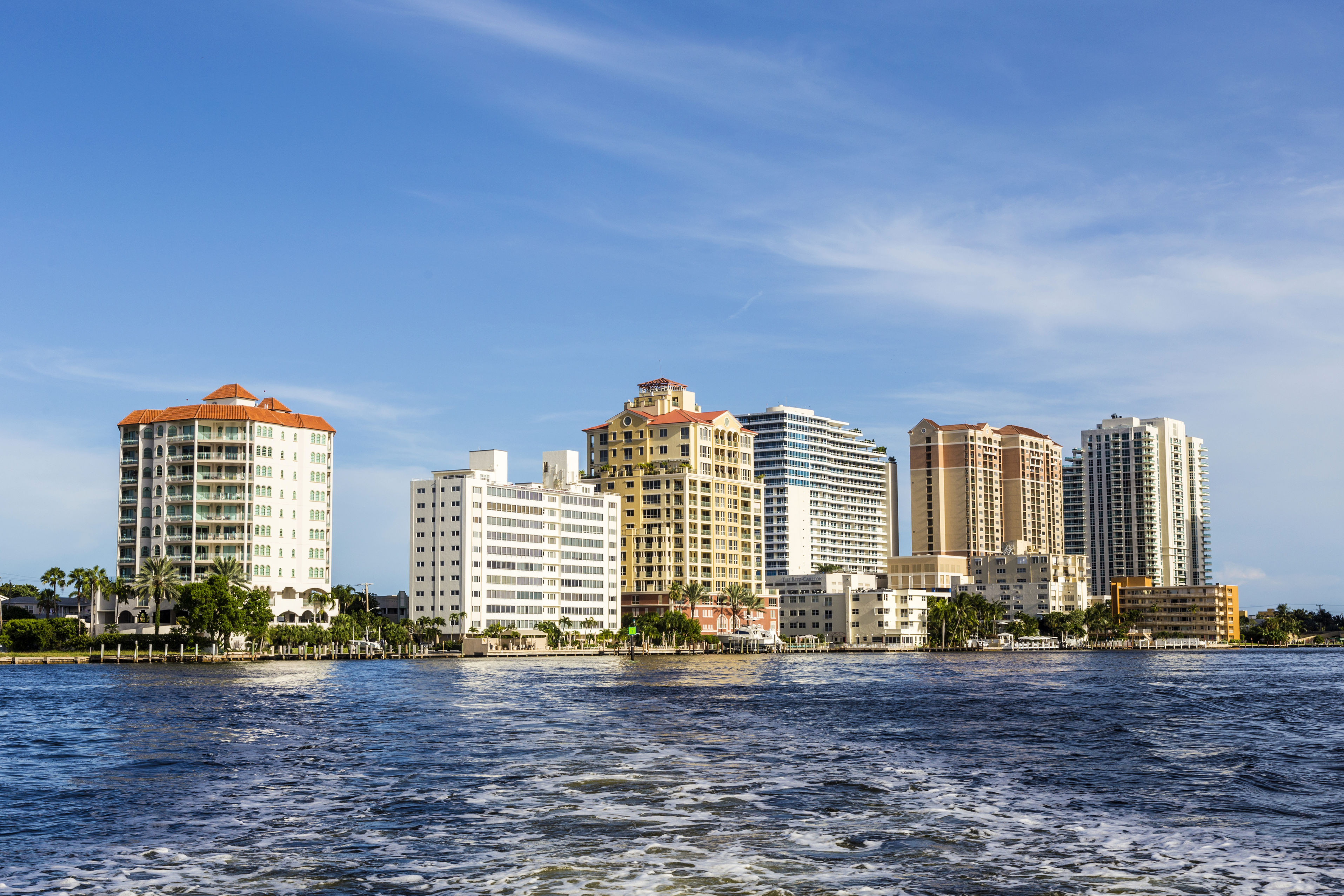 At Lawlor, White & Murphey, we often see the dark side of cruise vacations. Victims of cruise line negligence come to us to help them fight back and get the compensation they need to cover lost wages and medical costs related to accidents and injuries. But that does not mean we are anti-cruise.
The vast majority of passengers each year have wonderful voyages full of happy memories. Many of those memories start in Fort Lauderdale, Florida, home to one of the busiest cruise ports in the world.
Located just 23 miles north of Miami, Fort Lauderdale is far enough away from the hustle and bustle of big city life to be more relaxed, but still large enough to offer a wealth of options to visitors.
For those sticking around for a few days before or after their cruise, there are more than 500 motels and hotels to choose from and over 4,000 restaurants offering all kinds of cuisine. There are also plenty of entertainment options – from shopping and nightclubs to museums and golf courses. Plus, the area averages an incredibly comfortable 75 degrees all year round, perfect for enjoying its seven miles of beaches.
And the port itself is consistently ranked as one of the top three ports in the entire cruising world, with number one rankings in 2010 and 2013. It offers a number of simple but welcome comforts to people passing through, including multiple parking garages, shuttle service, and porters who will carry your bags from your car to your ship.
But the real reason to sail out of this port is because of the high number of cruise lines that call it home and the exotic destinations they promise to bring passengers to.
All told, 10 cruise lines and 41 vessels sail out of Port Everglades (including ISE's Semester at Sea), and there were more than four million people who embarked on cruises using Port Everglades in FY2014 alone.
Cruise Ship Accident Attorneys Tell You Which Lines Sail Out of Fort Lauderdale and Where You Can Go
As mentioned above, there are a number of different cruise lines – including many major ones – that set sail from Fort Lauderdale's Port Everglades. Many of these cruises head out to tropical destinations, but not all of them.
Below we have included a comprehensive list of major cruise lines and destinations.
Carnival. One of the world's largest and most well-known cruise lines, Carnival has two ships that sail out of Fort Lauderdale: the Conquest and the Freedom.
Conquest – Enjoy 5-8 day trips to the Eastern and Western Caribbean.
Freedom – Carnival's second ship at this port offers the same cruises as Conquest, but also adds 8- and 12-day trips to the Southern Caribbean.
Celebrity. With four ships and multiple transatlantic cruises, Celebrity boasts some of the strongest offerings available at Port Everglades.
Constellation – With this ship, you can head to the Eastern and Western Caribbean for 5- or 8-night stays, tour the entire Caribbean on a 9-night cruise, enjoy a 4-night trip to the Bahamas, or spend 13 nights exploring Portugal, Gibraltar, Spain, and Rome in their Transatlantic Italian Classic.
Equinox – The Equinox offers what Celebrity calls their "Ultimate Caribbean" – 10- and 11-night cruises that allow you to experience a number of ports-of-call. Additionally, it sails on a 14-night Iberian Peninsular Transatlantic cruise that includes Alicante, the Azores, Barcelona, Cadiz, Lisbon, and Malaga.
Infinity – Choose this ship and you'll have a wide range of options, from a mid-length 8-night cruise to the Eastern Caribbean to 15- to 21-night cruises through Central and South America via the Panama Canal. Actual ports vary depending on the length of the trip.
Silhouette – Two 7-night cruises to the Eastern and Western Caribbean and one 14-night transatlantic to Lisbon, Le Havre, Belgium, and Amsterdam make up this cruise liner's schedule.
Holland America. Ten ships. That's how many of Holland America's cruise liners sail out of Fort Lauderdale. Not surprisingly, this is the most of any cruise line. Also not surprisingly, it means that you can pretty much go anywhere on a Holland America cruise from Fort Lauderdale.
ms Amsterdam – This ship offers three very different cruises: a 14-day trip through the Southern Caribbean; a 21-day tour of countries around the Panama Canal, as well as San Diego, Seattle, and British Columbia; and a staggering 114-day world voyage that hits, among other ports, Columbia, New Zealand, Australia, Singapore, Thailand, India, Egypt, Greece, Italy, and Spain.
ms Eurodam – Four of this cruise liner's offerings are 7-day tours of the Eastern or Western Caribbean. The fifth is a 21-day transatlantic that visits Portugal and multiple ports in Spain.
ms Maasdam – With a capacity of under 1,300 people, Maasdam may be one of the smaller ships on this list, but it also has one of the busiest schedules – nine separate cruises! They range from 7- to 14-day tours of the Eastern and Southern Caribbean and Panama Canal to 21- and 42-day trips that include Italy, San Juan, and the Canary Islands, and 23- and 49-day cruises through Key West, Aruba, and Brazil, among other ports.
ms Niew Amsterdam – Nearly identical to Eurodam's itinerary, except that the Niew Amsterdam's tour to Portugal and Spain is 14-days rather than 21.
ms Noordam – The Noordam has cruises to the Eastern, Western, and Southern Caribbean that range from 7-11 days, as well as a 19-day tour through the Panama Canal that also includes San Diego and Vancouver.
ms Prinsendam – Slightly more than 800 passengers can enjoy trips to the Southern Caribbean (16 days), Mediterranean (24 days), Amazon (28 days), and South America and Antarctica (68 days).
ms Veendam – If you want to explore the ports of the Panama Canal in depth, the Veendam has cruises of 14 and 17 days.
ms Westerdam – Three 7-day Eastern/Western Caribbean trips and a 21-day cruise of the Panama Canal make up this ship's itinerary.
ms Zaandam – Interested in going from the Panama Canal to Vancouver? If not, you may want to find another vessel, because that is the only route on the Zaandam's schedule.
ms Zuiderdam – A pair of 7-day Eastern/Western Caribbean cruises, four trips through the Panama Canal (10 and 11 days), and a 15-day visit to Italy that includes Spain and Portugal make up this ship's offerings.
Princess. With nine ships calling Fort Lauderdale home, Princess isn't far behind Holland America in terms of quantity, but whether they are the right company or not is up to you.
Caribbean – This workhorse has 14 different cruises on its schedule, but 13 of them are cruises to the Eastern or Western Caribbean that last between 3 and 7 days. The final cruise? A 14-day exploration of the British Isles.
Coral – The Coral offers two partial transits through the Panama Canal (11 days) and one 15-day full transit.
Emerald – There is only one cruise offered: a 17-day passage through Mediterranean ports.
Island – Four Panama Canal trips that range from 11 to 15 days, a 4-day getaway to the Western Caribbean, and a 17-day through Portugal, Spain and Italy complete Island's schedule.
Ocean – Two tours await Ocean passengers, a 14-day exploration of the Caribbean and a 25-day trip through the South Pacific and the Andes.
Pacific – This tiny ship (only 680 passengers!) only travels on a 17-day trip through the Panama Canal.
Regal – Yes, there are 3- and 7-day tours to the Eastern Caribbean, but the real reason to check out the Regal is to take its 17-day passage through Northern European ports.
Royal – You can take Eastern and Southern Caribbean excursions from 5-10 days or enjoy a 26-day immersion in ports of the British Isles.
Ruby – Like many other Princess ships, the bulk of Ruby's trips are to the Caribbean – three 7-day tours and one 5-day cruise – with one cruise that is substantially more, well, substantial. Here, it's the 49-day "adventure" through South America.
Royal Caribbean. The six Royal Caribbean ships that sail out of Fort Lauderdale offer the latest in comforts and a bevy of potential destinations.
Allure of the Seas – Two 7-night trips to the Eastern and Western Caribbean and a 12-night voyage to Spain make up the offerings for this vessel.
Independence of the Seas – Four cruises. All to the Eastern or Western Caribbean. All between 6 and 8 nights.
Legend of the Seas – The Legend offers South Caribbean trips from 9-12 nights and two 15-night cruises through the Panama Canal.
Liberty of the Seas – Four and 5-night tours of the Western Caribbean. Check the itinerary to see your specific ports-of-call.
Oasis of the Seas – Five and 7-night tours of both the Western and Eastern Caribbean.
Vision of the Seas – Vision offers 4- and 5-night cruises to the Western Caribbean and a 9-night tour of the Southern Caribbean.
Other cruise lines sailing out of Fort Lauderdale include Balearia Bahamas Express, Cunard, Seabourn, and Silversea.
Injured on a Cruise Out of Fort Lauderdale?
Our Experienced Cruise Accident Lawyers Know How to Help
If you are hurt while on a cruise because the cruise line behaved improperly, it does not fall under normal personal injury laws. Cruise accidents and injuries are governed by maritime law, which means you need a lawyer well-versed in this very specific personal legal area.
The knowledgeable cruise ship injury attorneys at Lawlor, White & Murphey have over 40 combined years of experience with maritime cases, and have helped people just like you to get their lives back on track after they were derailed by the negligent actions of a giant cruise company.
Make sure that your voice is heard. Get in touch with us today for a free consultation by filling out our online form, emailing info@LawlorWinston.com, or calling:
954-626-3445 (South Florida)
8550347-5475 (Toll Free)